I'm moving over posts from the now-defunct Galblog, so that I'll have them all in one place. Here's a mini album I made using some favorite pictures of Chloe last summer.
The Fly a Kite line from October Afternoon
is so cheerful and bright--perfect for all those
Sweet Summer
pics you took the last few summers!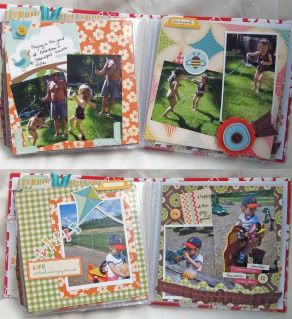 I used a little 6x6 photo album from American Crafts--at $1.50 it was a total steal--you could find something similar at the dollar store! Plus it's so easy to cut your paper to 6x6, stick on your photo and a few flat embellishments, and pop it right into the page protectors. I then placed thicker embellishments on top, so as not make the plastic pages get too bumpy.
Thanks for looking!