Been busy doing I don't know what...being a mama, teacher, wifey...daughter, friend, sister etc. Haven't been feeling too much scrapping mojo lately, only one layout in the past week (I can keep track because I keep all the new ones in a pile to show my mom when she comes over on Sundays, and the pile right now is but one sad and lonely page!). But here are some pages I haven't posted yet...
This is my dad and Chloe...not the greatest pics in the world, but I have been doing so many pages that are JUST Chloe, I wanted to document their relationship as well. I printed right on the Kraft cardstock, love how it looks!
This one is a hot mess...too many patterns and stuff going on...but ya can't love them all, I guess!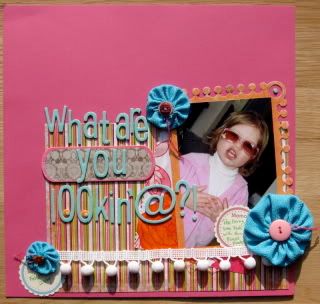 My mom bought Chloe these "princess" sunglasses, they're too big, and she's making this face trying to keep them on. D. pointed out that the fabric flowers look like hot-water bottles...doh, I didn't think so until you said that, thanks very much! This one is also for the current prompt at
The Creative Type
--see those little scalloped circles--we got those journaling spots (and a coupla cute others as well) in a pdf as a freebie from
Blueberry Freckles
--she's sponsoring the prize this week! Coolness, our first product as a DT. You have until midnight, tomorrow (Easter) to submit your page...use the "@" sign on your project!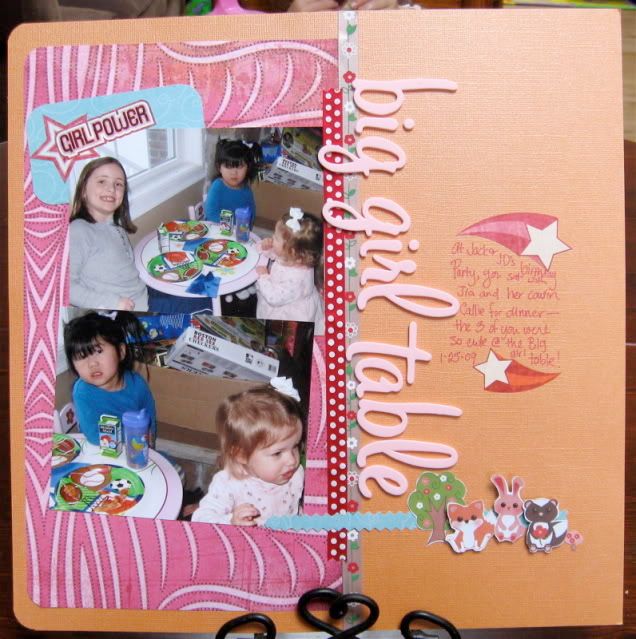 Ah, I think I'm beginning to see where my inspiration has gone...I made a few pages with pics I wasn't crazy about, and ended up with some layouts I just don't love. It's the scrapper's dilemma: do I document every moment that seems "memorable" regardless of the picture quality, or do I hold out for making pages only with fab. pics that I love? I think I know what the answer is...it's just my ego getting in the way.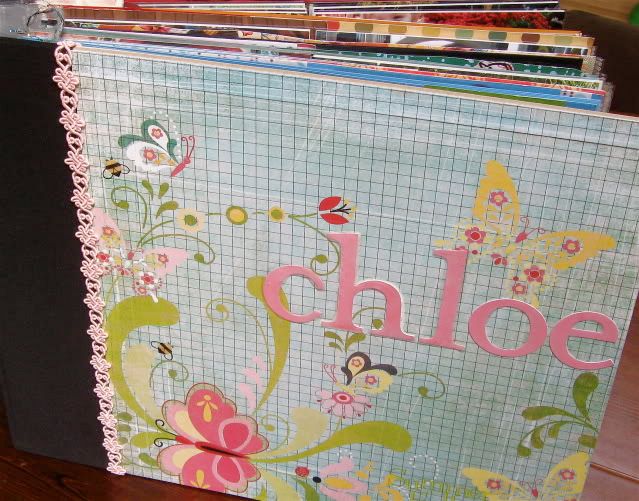 This ia a project I did for the
GalBlog
--and for Chloe, obviously. This is album #2 of her second year--and she doesn't turn 2 until the end of June...scary, isn't it?
The next 2 are Mrs.Chez lifts...I love them both. Maybe I should just stick to lifting people whose style I admire? It takes so much less thought...
Next are March DT layouts for
ScrapGal
...new Sassafrass Vintage Yummy--goodness gracious, patterned paper doesn't get much cuter than this!
This is also in
April's Pagemaps
newsletter--Becky was nice enough to feature all the ScrapGals! And possibly my all-time favorite in a while:
That's it for now. If this is your first time visiting (or if you've been quietly lurking), make sure you say "hi" in the comments section!