You'd think it'd be my favorite month, what with having my birthday in it and all, but really August kinda gets me down. Too much heat+humidity will do that to a girl...
This is my *first* Peter layout...I think I have been so excited to scrap some boy pages I got "scrappers block" so to speak. Anyways, I just think he's adorable, and I have so many great pictures just dying to be made into scrapbook pages--this is just the beginning!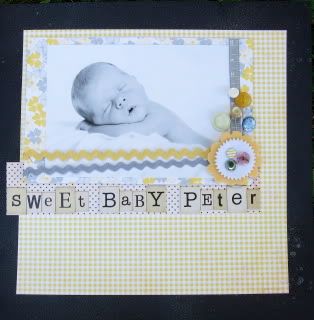 And some kiddo pictures, since they are growing so fast and I gotta keep track somewhere! These are from our vaca at the lake:
Pretty typical scene--Peter on-the-move crawling, Sadie sitting and playing.
Another typical scene--big Sadie smiles!
Yup...she's got style :)